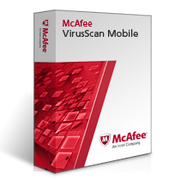 McAfee VirusScan Mobile for Android smartphones and tablets is an anti-malware system that scans and cleans mobile data, preventing corruption from viruses, worms, dialers, Trojans, and other malicious code. VirusScan Mobile protects your mobile devices at the most critical points of exposure, including inbound and outbound emails, text messages, email attachments, and Internet downloads.
Complete mobile protection — Scans and cleans malicious code from files, memory cards, applications, Internet downloads, text messages, and attachments.
Instant threat alerts — Continuous protection detects malware in less than 200 milliseconds without interrupting wireless operations or connectivity. Malicious files are immediately detected and cleaned, while automatic updates safeguard devices from the latest threats.
Ad blocker interference detected!
Wikia is a free-to-use site that makes money from advertising. We have a modified experience for viewers using ad blockers

Wikia is not accessible if you've made further modifications. Remove the custom ad blocker rule(s) and the page will load as expected.