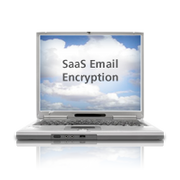 As with all of our cloud-based security solutions, McAfee SaaS Email Encryption offers enterprise-level performance without the complexity and cost associated with on-premise solutions. SaaS Email Encryption is an easy-to-activate and easy-to-manage solution for business users. Built on a foundation of trusted and proven standards-based encryption technologies, it eliminates the often difficult, time-consuming task of installing and managing an onsite solution. SaaS Email Encryption is available as an addition to the following McAfee products: SaaS Email Protection and Continuity, and SaaS Email Security and Archiving Suite.
Email tagging for simple encryption — As a sender, simply compose your email and send it. The content, including over 300 attachment types, is automatically scanned and encrypted if it matches the policy set by the administrator. This occurs transparently behind the scenes. You can also tag your email to be encrypted by simply adding "[encrypt]" to the subject line or within the message body.
Push/pull bidirectional protection — As a recipient, you can retrieve the message from the web-based message pick-up portal or download a secure message reader, which allows you to view the message directly through your email client. When you reply, the message will also be encrypted, providing you with bidirectional protection.
Customized, policy-driven encryption — As an IT administrator, you can use the unified, web-based McAfee SaaS Control Console to set, review, and customize privacy policies (policy-driven encryption), so confidential content is automatically encrypted. You can also customize and enforce multiple policies for respective user groups, branch offices, and lines of business. In addition to regular expression technology to identify keywords and phrases, SaaS Email Encryption has hundreds of pre-built data loss prevention rules that are also included in McAfee Data Loss Prevention, enabling you to leverage advanced data loss protection and compliance capabilities from our industry-leading technology. Features include the ability to fingerprint and register documents to detect and block key documents — or even select language from within those documents — from being emailed out of the organization.