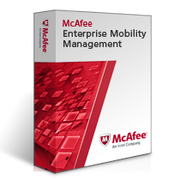 With data and device protection for today's most popular mobile devices, including Apple iPhone, Apple iPad, and Android devices, McAfee provides a complete mobile security solution that embraces mobile device diversity. McAfee Enterprise Mobility Management (McAfee EMM) brings the same level of security and control to mobile devices that IT applies to laptops and desktops, including the ability to identify, tag, and assign policies to both employee- and business-owned smartphones and tablets.
McAfee EMM combines secure mobile application access, anti-malware, strong authentication, high availability, a scalable architecture, and compliance reporting in a seamless system. Integration with McAfee ePolicy Orchestrator (McAfee ePO) enables IT to implement persistent policies and ease compliance management — while protecting devices and the corporate network from malware. McAfee EMM also helps drive down mobile device management and support costs and overall TCO by leveraging your enterprise's existing data center infrastructure and IT network, including directory services, Wi-Fi, VPN, and PKI.
McAfee EMM relies on the REST web services implementation to automate help desk functions, including efficiently decommissioning mobile users when needed.
McAfee EMM delivers:
Mobile security — Properly configures mobile devices to match corporate security policies and enforces compliance prior to network access. Provides malware protection for Android with McAfee VirusScan Mobile for Enterprise. Secures corporate email, calendar and contacts from personal data with McAfee Secure Container. Both are available with McAfee EMM to be distributed as a recommended app.
Easy deployment and configuration — Eases mobility management by automating the configuration and connectivity of VPN, Wi-Fi, PKI, and native email sync. Personalization features equip the device with a user's unique credentials to allow access to user-specific application services and enforcement of role-based policies. Bulk group provisioning helps administrators to quickly enable large groups of corporate users.
A scalable mobile security architecture — Seamlessly manages a few or thousands of mobile devices over a geographically dispersed data network, while efficiently assisting users when problems arise.