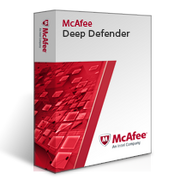 McAfee Deep Defender is a next generation of hardware-assisted endpoint security, enabled by McAfee DeepSAFE technology, operating beyond the operating system, designed to detect, block and remediate advanced, hidden attacks. McAfee Deep Defender is reinventing the industry approach to security and is the first product built on the McAfee DeepSAFE Technology co-developed with Intel.
Operates beyond the operating system — First-of-its-kind integration with Intel resides between the memory and OS to perform real-time memory and CPU monitoring.
Kernel mode protection — Real-time, kernel-level behavioral monitoring exposes and removes unknown threats, including kernel-mode rootkits, to preempt zero-day malware.
Faster-time-to-protection — Stop low-level stealth attacks as they occur before they cause any damage or steal data.
Stop unknown stealth attacks
Edit
Prevent stealth attacks from compromising your endpoints and stealing confidential data with real-time kernel memory protection operating beyond the operating system.
Utilize real-time memory and CPU monitoring
Edit
Leverage McAfee DeepSAFE technology, a memory software layer executing in VMX-root mode, to provide real-time kernel memory and CPU event protection with minimal performance impact.
Get true zero-day protection
Edit
Identify malicious behavior and provide true zero-day protection. McAfee Deep Defender requires no prior knowledge of the rootkit to detect its existence.
Deploy quickly and manage easily
Edit
Use McAfee ePolicy Orchestrator (ePO) software to remotely deploy and manage McAfee Deep Defender alongside your existing McAfee endpoint security solutions, lowering management overhead and costs.